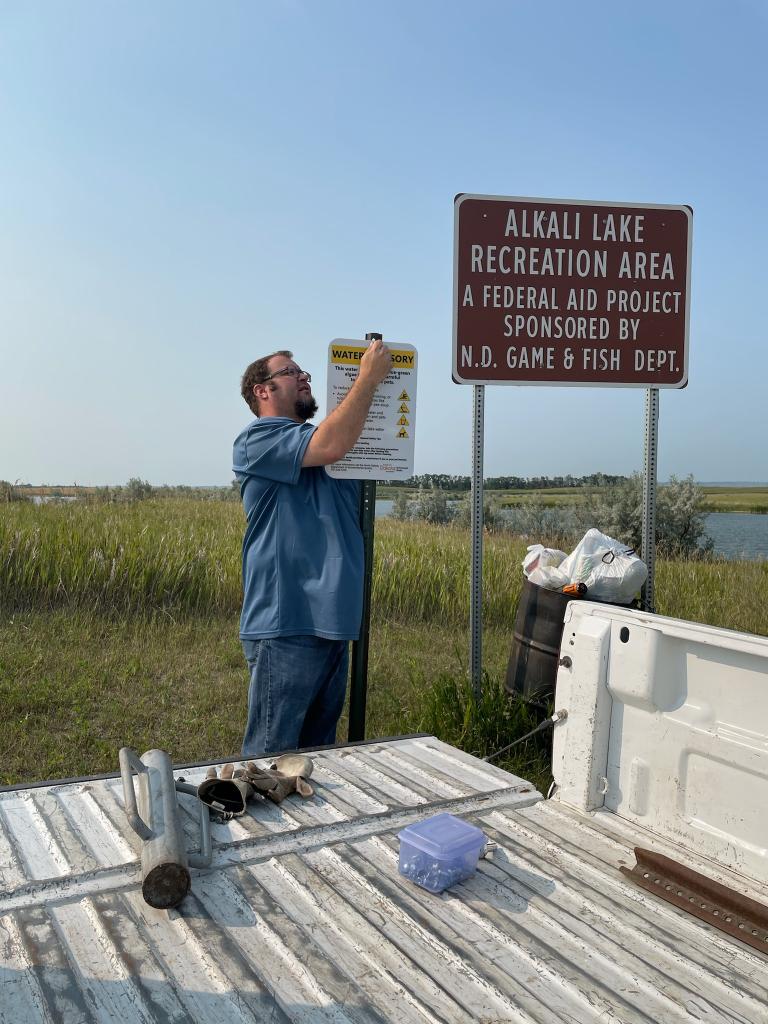 Harmful Algae Blooms Are Here
It's that time of year again. Warm, still water coupled with an excess of the normal nutrients found in our bodies of water can lead to toxic algae blooms. Not only is this situation unsightly and foul-smelling, but it can also pose a serious health hazard to you and your pets. Such algae blooms cannot be identified by sight alone, so please pay attention to warning signs posted by local officials.
Our office was notified by the ND Department of Environmental Quality about a Harmful Algae Bloom (HAB) Advisory at Alkali Lake in Sargent County on the morning of Tuesday, July 20, 2021. In order to avoid illness, such an advisory recommends that you refrain from swimming in that area if the water looks green, avoid swallowing any water from this body of water, rinse off with non-lake water if you have been in contact, and watch both children and pets to avoid their interaction with potentially dangerous algae. If you are boating, avoid areas that look scummy when possible.
If you suspect you may have been in contact with a harmful algae bloom, watch for the following symptoms and seek medical help immediately if you start to experience:
Headache, Incoherent Speech, Drowsiness, Loss of Coordination

Dry Cough, Pneumonia, Sore Throat, Shortness of Breath

Abdominal Pain, Nausea, Vomiting, Diarrhea, Severe Cramps

Irritation of Eyes, Nose, or Throat

Blistering, Rash, Fever, Tingling or Numbness, Skin Burning, Muscle Aches or Weakness
In pets, watch for vomiting, fatigue, difficulty breathing, coughing, or convulsions. These symptoms can come on quickly in pets and lead to serious illness and even death in a short amount of time.
The best way to avoid exposure to toxic algae is to stay out of potentially infected areas. Watch for posted warning signs and be alert about the condition of lakes and ponds you plan to spend time around. If you're unsure, stay away from the water.
Quick Contact
8991 Hwy 32 Suite 2
Forman, ND 58032
View Map
Phone: 701-724-6226 Ext 3